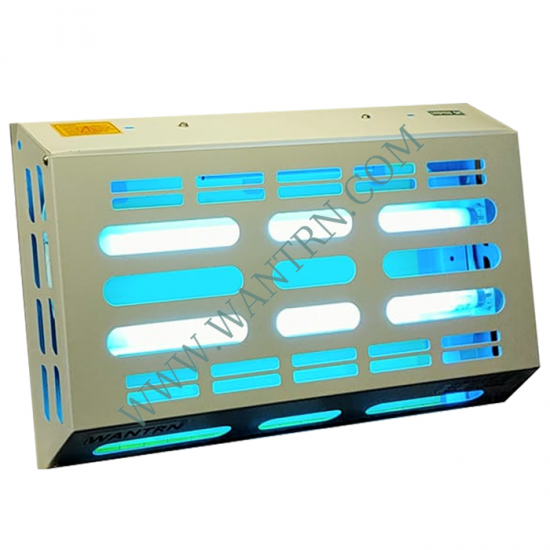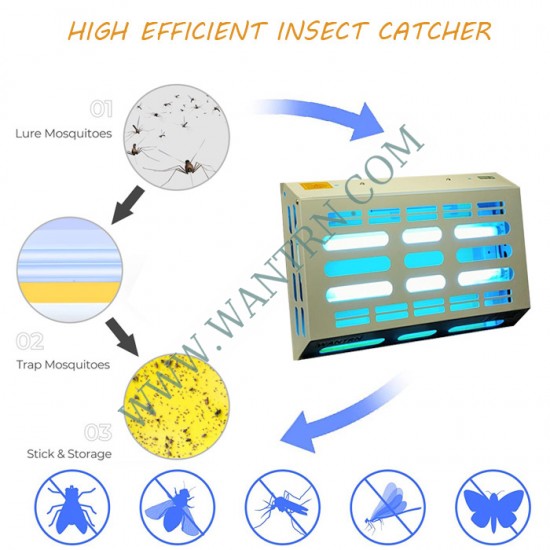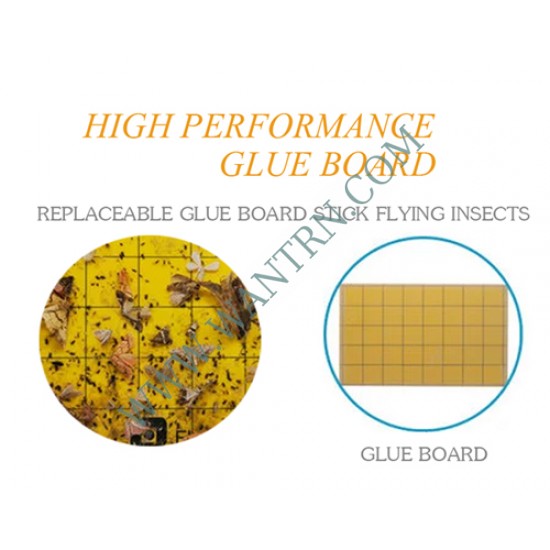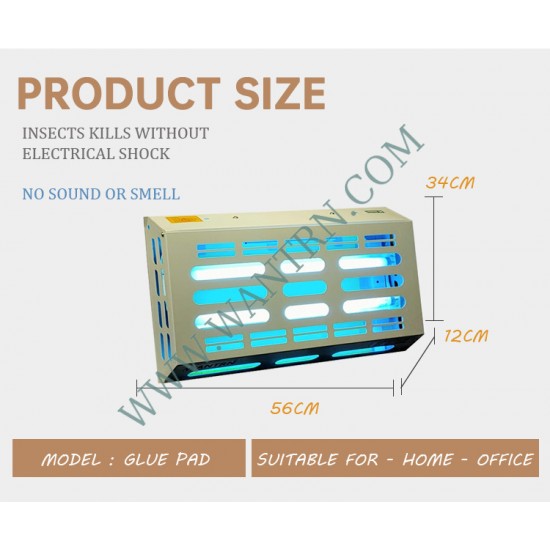 30W




insect catcher
Stock:

In Stock

Reward Points:

50

Model:

ABF01B

Weight:

3.20kg

Dimensions:

51.00cm x 10.50cm x 32.00cm

WANTRN®
190 samples sold
Product Views: 27
Check delivery at your pincode
Fly Killer Glue Board - Sticky Fly Catcher Machine
The flycatcher machine is a device that is designed to trap and kill flies. It is a small, portable device that can be placed in any room in the home. It is powered by batteries and has a small fan that draws flies into the device where they are trapped and killed.

What is Insect Catcher Machine and how does it work?
Electric Insect killer and glue board fly trap both working modes as the same it attracts and kills flying insects and mosquitoes, on electric insect killer insects zapped on electric mesh and glue board machines insects trapped on sticky gum pad
WANTRN Insect light trap for Hotel - Cafe - etc
Product made high-quality branded UV Lamp and long-life unit ideal for domestic and commercial situations.
build with a Strong Metal body with powder-coated, easy to replace glue board.
Insect trap on the lamp on UV light Insect sticky trap attracts fruit flies, flying insects, and mosquito insects
Wantrn is a leading flycatcher machine and light traps, a yellow sticky trap made glue traps technology, mosquito traps on glue board
Premium-designed, insect light trap from WANTRN
Easy to service, the front door allows quick and easy tool-free access to the lamps and glue board, without the need to remove the guard during servicing.
Insect Glue Traps can be placed on wall mount
A Glue Board Insect trap is best for house fly trap machine
Electric flycatcher makes sounds, insect killer suitable for outdoor mosquito-killing, Insect Light Trap with Glue board function offers without sound or smell insects, fruit fly traps quickly
if you looking outdoor then we recommend use an electric insect killer
Wantrn offer 1 Year Manufacturer warranty during warranty period parts will be offering a free replacement
MODEL SPECIFICATION
Brand

WANTRN®

Model
Insect Catcher 30W
Choke Type
Copper Type
UV Lamp
Philips
Construction Material
Metal body
Catching tray
Included
Indoor/Outdoor Usage
Indoor / Outdoor
Insect Trap Mechanism
Glue Pad Sticky
Transformer
1 Year Warranty
No of Lamps
2 Lamps
Product Size ( CM )
L50 * H30 *W11
Weight
3.2 KG
Mount Type
Wall-Mounted


WARRANTY / BUYBACK
Warranty
1 Year Manufacturer's Guarantee


Return Period

10 Days Money Back

Repair Facility
Available
Extended Warranty
Available

Buy Back

3 Yr Coverage

Track Warranty Option
Yes Available
Plug Point
5 AMP
Wire Length
1.5 Meter
Spare Accessories
Available
Body Parts
Available

Glue Pad
1 nos include
Color
Half Grey
Mount Type
Wall-Mounted
Filter by Warranty
Warranty Period
1 Year
Requirement
Recommended Models for
Food Processing areas
Sort by Number of Tubes
Product Used by
3 Tube
Coverage
Sort by Product Coverage
300 Sqft