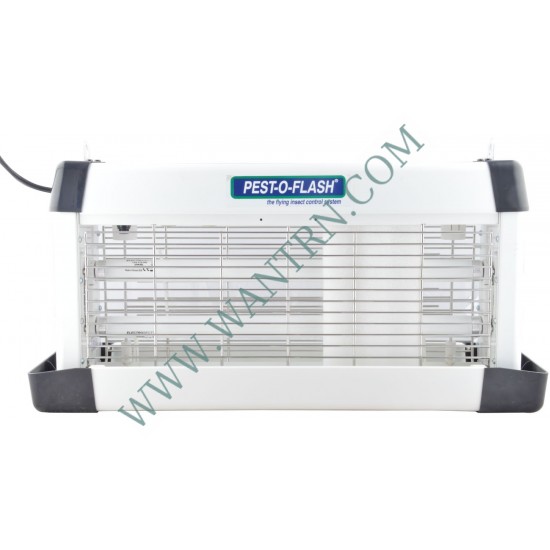 Pest o Flash is one of the best effective fly killers
Stock:

In Stock

Reward Points:

10

Model:

POF 2T

Weight:

6.20kg

Dimensions:

57.00cm x 15.50cm x 28.00cm

PCI
190 samples sold
Product Views: 25
Check delivery at your pincode
Pest o Flash is a professional and safe pest control product designed to kill flying insects It kills flies, and moths, which makes it more effective. Pest o flash provides an immediate positive result with fewer collateral effects on the environment.It is also used in the commercial place
It is the best flying insect-killer machine as it works very efficiently in killing insects.
If you have a problem with flies, you need to get this machine. It's the only way to effectively control flies without damaging the environment or your health.


How to Setting up your Pest o Flash?
Just follow these step-by-step instructions:
It's handy and easy to use.
follow the instructions in the manual
The Pesto Flash is a great way to It's also handy and setting up simple too


Pest O Flash Unboxing Video


These fly killers are the best you can buy with us
Anxon offers Pest o Flash buy online and get-door delivery
Pest o flash light available in 2 colors
Models 2T Model Black and white colors
Pest o Flash Price based on quantity
We offer the best price in the market
Pesto flash tube light available at lowest price
ANXON is an authorized dealer for PCI Products - Product supply from PCI branches pan India
Product buy online delivery will be 1 or 2 days depending on the customer's location
Pesto Flash electric fly killer Electrical Flying bug Catcher. The Conventional electric flying bug control framework draws in, attracts,s and kills flies, an efficient and helpful way. Products Manufactured by Pest Control (India) Pvt Ltd, India, and accessible in all over India
electric flying insect killer uses uv lamp to kill flying insects pests. It is effective against pests and can help to keep your home clean and free of disease. insect killer is an easy way to control flying insects, Electric insect uv light is the blue tube for the fly killer machine, pest flies attracted UV light 365-370 nm
Lamp
Tubes
15W * 2
Type
Electric / Glue Pad
Insects kills Electric Shocking
Volt
Volt
30W
Coverage
Sort by Product Coverage
Approx 300 Sqft area
Placement
Option
Floor Standing - Hanging
Body
Product make by
Metal Body